Duro-Last Roofing Applications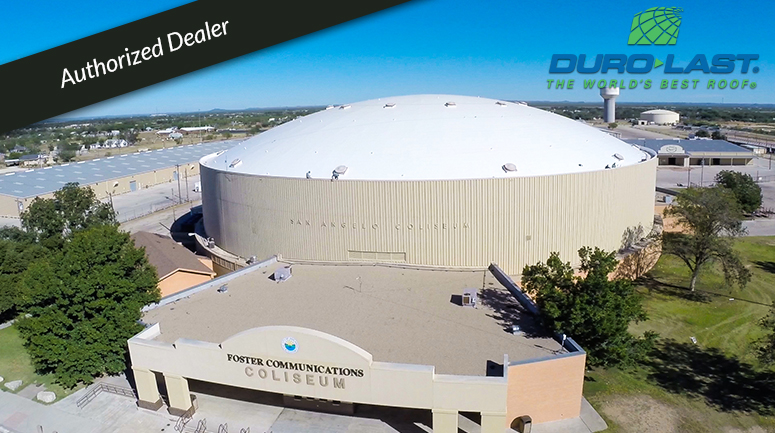 The custom-fabricated, single-ply Duro-Last commercial roofing system is ideal for any flat or low-sloped roofing application. Extremely durable and easily installed by Harrison Roofing Co. without disrupting building operations, the Duro-Last roofing system is also watertight, highly reflective, resistant to chemicals, fire and high winds, and virtually maintenance-free. Harrison Roofing has consistently been among the top volume Duro-Last installers in the West Texas and is an Elite Master Contractor that maintains a 98+ average score on Duro-Last inspections.
Single-Ply Roof Membrane
The Duro-Last vinyl roof membrane is a proprietary thermoplastic formulation consisting of PVC resins, plasticizers, stabilizers, biocides, flame retardants and U.V. absorbents. A weft-insertion knitted scrim that is laminated between two layers of PVC film gives the membrane its strength and durability. The Duro-Last single-ply membrane is available in white, gray, dark gray, tan, or terra cotta.
Cool Zone Roofing System
In the commercial roofing industry, reflectivity and cool roofing has been the dominant discussion point for several years, and the Duro-Last Cool Zone roofing system has set the standard for single-ply roof reflectivity and the resulting energy savings. Now, terms like sustainability, cool roofs, and cool roofing are receiving a lot of attention, and once again, Duro-Last is setting the bar.
But what does sustainability and cool roofing really mean for building owners, facility managers, contractors, architects, and other specifiers? It means that the design, construction, maintenance, life-cycle impact, adaptive re-use, destruction, and recycling of roofing components must help meet the long-term environmental standards demanded by today's high-performance buildings.
To be considered "sustainable," a roofing system must meet the Five E's of high-performance roofing: Energy, Environment, Endurance, Economics, and Engineering. In each of these areas, the Duro-Last Cool Zone cool roofing system leads the commercial roofing industry.
Duro-Shield Metal Retrofit System
The Duro-Shield roofing system is the long-term way to protect your building against rain, temperature changes, interior drips, ice build-up, and rust and corrosion. The Duro-Shield single-ply membrane is prefabricated and custom designed to fit your metal roof exactly, eliminating up to 80-85% of rooftop installation labor. The Duro-Shield retrofit solution keeps Mother Nature outside, while your inventory, equipment, and workers stay safe and dry inside.
The Duro-Shield metal retrofit system is also energy-efficient, resistant to chemicals, fire and high winds, and virtually maintenance-free.
Vinyl Rib Roofing System
The Vinyl Rib system consists of the Duro-Last single-ply membrane and separate vinyl ribs that are heat-welded to the installed membrane to ensure a permanent, secure installation with architectural standing-seam look. The Vinyl Rib system is available in light gray and white, and uses Duro-Last's 60-mil membrane, fully-adhered to the roof deck (no mechanical fasteners) to provide a smooth roof surface.